Black Friday is here, the internet is swamped with amazing deals, but we only have so many hours in the day. We have filtered through all the noise, to bring you the very best tech & gadget deals.
You can check out all the Black Friday USA deals here.
ROKU … If you are looking for a low cost television, with the bonus of Roku built in, the TCL 32S3800 32-Inch 720p Roku Smart LED TV is now 26% off here.
GOPRO … You can also get your action game on, with 40% off the GoPro HERO. It is the entry level camera in the range, but the HD video is very good indeed. Get your GoPro HERO here.
BELKIN WEMO … Make your home a little smarter with "better than HALF PRICE" Belkin WeMo Switch Smart Plugs. These are great little devices and are available here.
SENNHEISER … Great sounds direct into your ears, plus a massive $150 off the Sennheiser HD 598 Cs Closed Back Headphones here.
SEGWAY … I have always wanted one of these and now it's even more achievable with $700 … yes $700 off the Segway miniPRO Smart Self Balancing Personal Transporter. Get moving around your town or city a lot quicker here.
NEST THERMOSTAT … Keep your house warm, but smart at the same time. The 3rd Generation Nest Learning Thermostat is now $50 off here.
ECHO DOT … We all love automating things and being able to talk to a gadget to help get things done is awesome. The All-New Echo Dot is now $10 off here.
SONOS … Music makes us happy, what makes me even happier is 25% OFF the awesome Sonos PLAY:1 Compact Wireless Smart Speaker here.
BROTHER PRINTER … I personally own a couple of Brother laser printers and they perform admirably. Today you can grab 20% off the Brother HL-3170CDW Digital Color Printer with Wireless Networking and Duplex built in … here.
OK, so it's Black Friday and there are so many deals to go through. To save you some time, I have selected the best picks from the world of technology, with AMAZING savings to be had today.
If you do want to check out all the Amazon UK Black Friday Deals … they are here.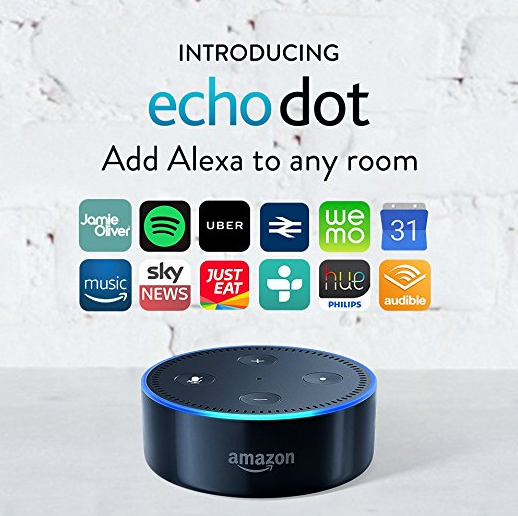 You can get £10 off the clever little Amazon Echo Dot (2nd Generation) here.
Next up is £30 off the SONOS PLAY:1 Smart Wireless Speaker, Black here.
NEST THERMOSTAT … I personally own one of these and can vouch for how awesome it is. The 3rd Gen Nest Learning Thermostat is £40 off here.
SENNHEISER … This is an amazing deal, in fact it's better than HALF PRICE. These sound amazing too … the Sennheiser HD 598 Cs Around-Ear Closed Back Headphones are 55% off today … here.
XBOX ONE S … One of the best Xbox One S deals I could find is a great one too. Not only do you get a superb games console, but also the ability to enjoy 4K Blu-Ray movies too. Check out the amazing price for the Xbox One S (1TB) with Gears of War 4 + Controller Bundle here.
CRUCIAL SSD … Upgrade your laptop or desktop PC by adding some super fast storage. The Crucial MX300 750GB SATA 2.5 Inch Internal Solid State Drive is now HALF PRICE here.
LOGITECH HARMONY … Another gadget that I personally own, the Logitech Harmony Elite Remote Control makes managing all your home media devices simple. It is now an amazing £150 off here.
SONY BRAVIA TV … Last but not least, you can enjoy 4K HDR content on the latest 2016 model of the Sony Bravia KD55XD8005 55-Inch Android 4K HDR Ultra HD Smart TV. The great news is, this now has 33% OFF here.