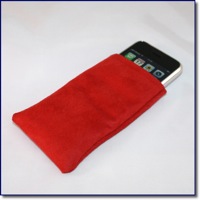 With the new iPhone launching on the 11th July in 22 countries, it is important that you pop your little baby into a nice carry pouch. The GeekPouch is available for Pre-Order now, with shipping very soon after the iPod 3G launch. It comes in black corduroy, red faux suede and leopard fur effect fabrics and will keep your iPhone protected from light bumps and scrapes. Pricing is very simple, just £5.99 (inc. UK delivery) or £10.99 (inc. worldwide delivery) with a little saving on offer if you buy two.
If you are really worried about your new gadget, then you should pop a StickiT on the back. The nice glossy finish to the new iPhones is bound to attract dust and scratches. This thin film will keep the back of your new iPhone nice and shiney. The price is cheap too, just £2.99 (inc. UK delivery) or £5.99 (inc. worldwide delivery). Again, these will start shipping hopefully within a week of the iPhone 3G launch.
Both of these products have been available for a long time now, for the whole range of iPods and the current iPhone. They have proved very popular to date.